Working Students (Law or Humanities) Editorial Department (f/m/d)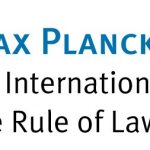 Webseite Max Planck Foundation for International Peace and the Rule of Law
At the core of the Max Planck Foundation's mission stands the provision of technical legal assistance to developing countries, particularly to those countries in transition or conflict (see: https://www.mpfpr.de). Alongside that, the Foundation publishes the Max Planck Yearbook of United Nations Law (UNYB), which is an annual publication that deals with issues and activities related to the UN and current developments in public international law (see: https://www.mpfpr.de/publications/unyb/).
The editorial team is looking for students interested in learning/understanding the editorial processes of a law journal dealing with various topics of public international law. The main tasks will include but not be limited to, formatting and copy-editing of academic texts, identification of suitable peer-reviewers, conducting literature reviews for topics of interest, preliminary assessment of submissions, etc. This is a great opportunity to familiarize oneself with editorial work and to enhance their scholastic knowledge over a diverse range of legal topics dealt with in this publication.
Our Requirements:
– enrolled as a full-time student in Germany
– studying Law or Humanities
– proven interest in issues related to public international law and the work of the United Nations (preferred)
– high proficiency in English
– thoroughness and very good eye for detail
– good computer skills (WORD)
– knowledge of at least one style of legal citation (preferably OSCOLA)
– previous experience with editing academic articles/texts (preferred)
– commitment and flexibility
– office position based in Heidelberg, Germany – it is not possible to fulfil the tasks remotely
We Offer:
– interesting and challenging tasks within an international environment
– the opportunity of gaining an insight into the Foundation's activities
– hourly salary of 14.31 Euros
The Max Planck Foundation is committed to increasing the number of individuals with disabilities in its workforce and therefore encourages applications from such qualified individuals. The Max Planck Foundation also seeks to increase the number of women in those areas where they are underrepresented and therefore explicitly encourages women to apply.
Application:
Please apply through our online application portal (https://www.mpfpr.de/careers/) stating your earliest possible starting date and preferred weekly hours of employment by 30 September 2023.