Working Students / Student Assistants (f/m/d) for Asia Projects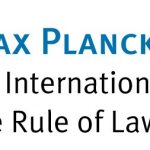 Webseite Max Planck Foundation for International Peace and the Rule of Law
At the core of the Max Planck Foundation's mission stands the provision of technical legal assistance to developing countries, particularly to countries in transition or conflict (see: https://www.mpfpr.de). Through legal consulting and legal capacity building activities, the Foundation assists States endeavouring to develop their legal systems and strengthen their institutions. The Foundation also provides legal expertise to the responsible institutions and legal professionals with the aim of enabling them to autonomously carry out necessary changes.
In this context, the Max Planck Foundation is looking for student assistants to facilitate the on-going preparations for legal seminars, conferences and workshops for projects based in Sri Lanka and the Maldives. Main duties will include: legal research as well as research on political developments within the project countries and the region, organisational tasks, preparation and formatting of workshop materials, as well as review of seminar evaluations.
Our Requirements:
enrolled as a full-time student in Germany
studying Law with a focus on Public International Law OR Political Science, South Asian Studies, Ethnology or comparable
very good English skills
knowledge of Public International Law and Comparative Constitutional Law desirable
practical experience and interest in South and South East Asia desirable
excellent computer skills (MS Word, Excel und PowerPoint)
commitment and flexibility
office position based in Heidelberg, Germany – it is not possible to fulfil the tasks remotely
We Offer:
interesting and challenging tasks within an international environment
the opportunity of gaining an insight into the Foundation's activities
hourly salary of 14.31 Euros
The Max Planck Foundation is committed to increasing the number of individuals with disabilities in its workforce and therefore encourages applications from such qualified individuals. The Max Planck Foundation also seeks to increase the number of women in those areas where they are underrepresented and therefore explicitly encourages women to apply.
Application:
Please apply through our online application portal (https://www.mpfpr.de/careers/) stating your earliest possible starting date and preferred weekly hours of employment by 15 October 2023.
Um dich für diesen Job zu bewerben, besuche bitte www.mpfpr.de.